Let your motorcycle look as good as the view on your ride with our exceptional motorcycle detailing service.
A motorcycle is a splendid way to enjoy the highways and scenic routes here in the Mooresville, North Carolina area. While you are enjoying the sites, you might be concerned that your ride's appearance isn't reflecting well on you. Here at Kings of Car Care, we offer quality mobile motorcycle detailing services that will restore the appearance of your motorcycle and protect your investment.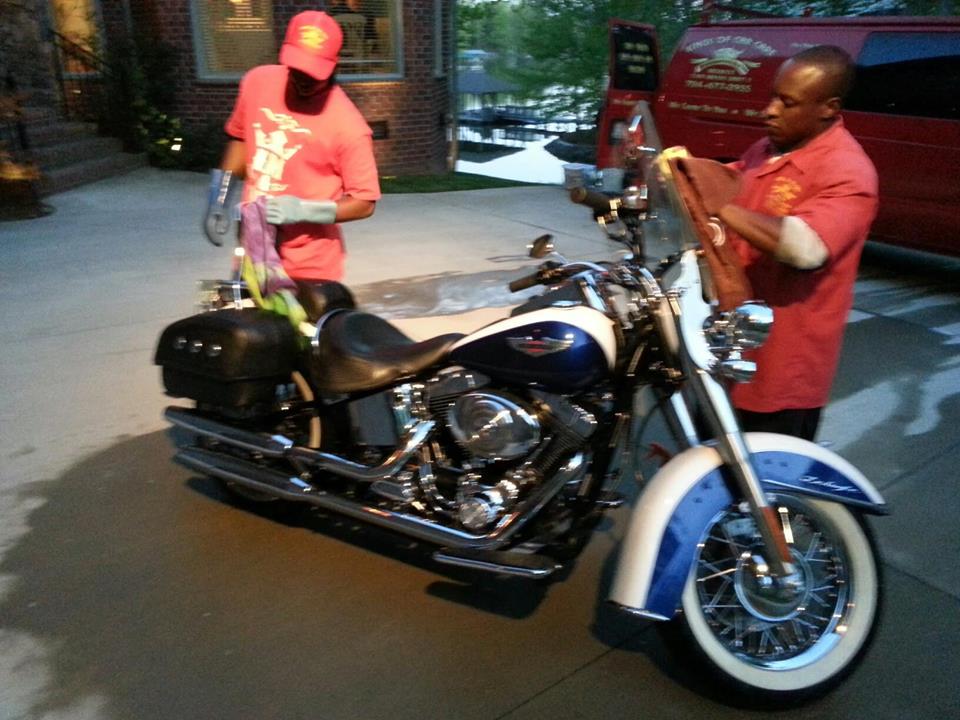 We understand that you'd rather spend your time on your ride rather than cleaning it, especially if you have a busy schedule. Our specialized mobile vans are equipped with power and store 100 gallons of water, so we can come to your home, office, or anywhere else you happen to be. Our trained, professional techs are detail-oriented and can handle anything from fine road dust to oxidation or mud. We pride ourselves on providing a quality result so you can be proud of how your motorcycle looks.
While you might think that getting the royal treatment for your motorcycle would be expensive, we assure you that our motorcycle detailing services are quite affordable. We're very talented and efficient at what we do, so you can be ready to ride again before you know it. Since 2009, we have been committed to fulfilling the needs of our customers, including detailing of motorcycles, cars, trucks, RVs, boats, and even fleets of commercial vehicles.
If you have any questions about our flexible scheduling or how our motorcycle detailing service works, don't hesitate to contact us. We'll be happy to discuss the options available for your motorcycle or other type of vehicle.